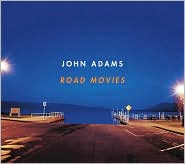 For the past few days I have been soaking in a collection of John Adam's works written for smaller media than his more well-known orchestral and theatrical pieces.
Road Movies
includes music for solo piano, two pianos and violin/piano duo that evokes an atmosphere steeped in Americana akin to movies, such as
Easy Rider
or
Thelma and Louise
. In in its sound there is still the perpetual rhythmic motion in much of this music that has been the hallmark of Adams, Glass, Reich and others who created the minimalist path more than a quarter century ago, but there is a whole lot of morphing going on here. Harmonic colors and melodic fragments melt from one to another with prismatic hints of a stylistic reference or quotation peeking through in glimpses. The second movement of the title composition begins with passages that are eerily reminiscent of the Copland violin sonata but out of the desert heat mirage images dance fleetingly before fading back into the stark vista of open space. The disc concludes with the rambunctious
American Berserk
for solo piano that romps its way in loping, disjointed rhythms. At times this music reminds me of Ives'
Three Page Sonata
crossed with ragtime and boogie-woogie. There is a a fine video of pianist, Izumi Kimura, playing this piece on YouTube
here
.